Viagracialis.it Review:
Acquista Viagra Cialis Online da viagracialis.it - Italia
- Viagra Cialis Online da viagracialis.it - Italia - Il Viagra ed il Cialis sono le compresse dell'amore. Entrambi i medicinali servono a facilitare l'erezione...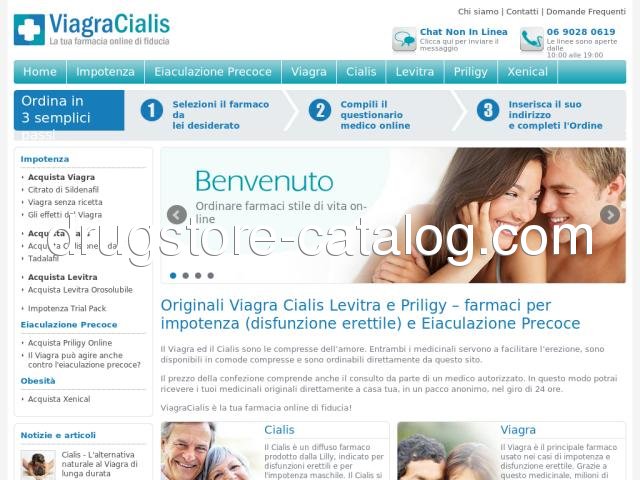 Country: North America, US, United States
City: 77092 Houston, Texas
amador - Wow, what a great machine!Got my Shark Navigator a couple of weeks ago and I just love it! It's lightweight, a snap to put together, and great suction. I had vacuumed my rug the previous day with my Kirby Heritage, and thought I'd see what the Shark could do after a recent vac job. Holy cow, the dust cup was full TWICE ! It worked very well on my couch, the pet brush is awesome. Thanks, Shark !
Arijit - Awesome android tablet - must buy!I was looking for a tablet that will last me for years. After researching for few days, I have decided to buy this one. I didn't make any wrong decision.

The quality of ASUS prime tablet is great. The tablet is light, really light but feels sturdy in my hand. The gorilla glass is scratch proof (I have rings in my fingers). The screen quality is very good but I use the tablet mainly indoor so can't comment on much-advertised IPS+ display. However, for indoor use the display is quite good and I didn't face any reading or viewing problem.

The faster Tegra3 processor and GPU was able to run any games I threw at it. All the apps opened quickly and although I ran lots of apps and never closed them using menu items, the tablet never felt like slowing down. One concern is some of the applications I use, are still not updated to ICS tablet screens, so they stretch to fit the screen. That's poor from app developer's part, not tablet's fault.

The volume is a bit low, but any free amplifier/equalizer app from Android market can take care of this issue. The 32 GB storage is ample, although I have bought another 32GB MicroSD to be in safe side.

Overall this tablet can be treated as best Android tablet so far, in fact I have compared with iPad2 from my friend - I don't think this tablet is anyway behind iPad2.
Rahul Bijlani - Remarkably well-thought out and presentedI first came across Esther's work by watching a video of her lecture at Google, by clicking on a link posted on a fitness forum. As someone who doesn't really have any back problems, I nevertheless was floored by her insights into how both posture as well as the perception of posture have radically changed over the last 100 years, and was compelled to purchase her book.

What I found in the text was incredible. Her prolific illustrations in the book and compelling scientific analysis provide a simple explanation for why certain injuries (hip/ knee, hamstring etc) have gotten so common, especially as people get older, as well as an evolutionary basis to explain the reasoning behind 'good posture' - efficient locomotion and the design of the human body.

The pictures of people from non-industrialized cultures/ lifestyles are remarkable for how different they look from the rest of us. But what makes the point even more pronounced is how similar their postures seem to be from 100+ year old pictures of Western societies. The most compelling argument, though, is how babies from all cultures have strikingly similar posture, which suggests that the varying curvatures of adult spines is due to their environments, not their genes.

The bulk of Esther's book explains how to regain good posture and a healthy spinal curvature, and surprisingly, its not very difficult with her directions, photographs and explanations. As a healthy young adult, I'm very interested in her work from a fitness point of view, since I think it will help me with sport and athletic activity, especially with toning my hamstrings and abs. In fact, I'll probably find a way to attend one of her workshops.

This is a remarkable book that absolutely anybody can benefit from, and I'm amazed that you can make such a significant improvement to your life by spending less than $20.
Fabian Vargas - USE THE PERFORMANCE MODE!!*********** UPDATE JAN 27, 2012**************

Thanks to a suggestion from Bino I enabled the performance mode (always had used balanced) and the Prime shined in all it's Quad core glory. The little pauses and lagginess mostly disappeared. I don't know why I hadn't tried this mode, oh yeah, it was because of battery concerns and yes the Prime did die on me today after enabling performance mode even though I barely touched it today. Since I will get the docking station soon then this is not a concern. When I bought the original TF I made a review for the dock saying it was necessary to fully enjoy the TF if you used it all day like me. Now with performance mode I would say the dock is obligatory if you want to use performance mode which you should, otherwise wy buy a Tegra 3 tablet. Let's see how it behaves when the dock arrives. Changed from 4 stars to 5 stars

*********************************************

ORIGINAL REVIEW:

My Transformer Prime just crashed and rebooted so I have like a minute to write this review...

Ok it's back up, that was fast but... I might as well finish the review.

I'm an Android fan, a Transformer fan, maybe even an ASUS fan. When people talk about Android tablets they always say the Galaxy Tab, the Xoom blah blah, they never mention the ASUS Transformer which was the best and most innovating tablet bar none. I guess this is because people know samsung and Motorola (and LG and HTC, etc) from their phones. ASUS doesn't make phones so it's in a disadvantage there but if you know anything about computer parts then you know ASUS is a pretty big and trustworthy company. They make awesome video cards, awesome mother boards, awesome laptops and a lot more stuff.

I bought the Original Transformer knowing and trusting ASUS completely, I imagine a lot of people dismissed it because they thought ASUS was some crazy crappy company like Coby or Pandigital. What I mean is ASUS is a huge successful company, not some weird newcomer.

The original Transformer was awesome, actually it is awesome, ASUS delivered fast updates and it worked great. Of course when I heard about the prime I had to have it so I sold the original Transformer and I went through the whole nowinstock ordeal, I pre ordered it here and there and then cancelled here and was charged there so had to wait for the funds to be available to pre order it somewhere else and then finally I was able to preorder it at Amazon and it said it would arrive Jan 27 - Feb 10 and then I got an email from Amazon saying hey good news! Your order will arrive sooner, like in 2 days and bam immediate $500 dollar charge but I didn't have the money ready so overdraft fee blah blah. So finally I got my prime like Jan 21 because I don't live in the US.

FIRST IMPRESSIONS: When I opened it up I didn't get the wow factor, looks pretty normal to me. Booted up and honeycomb was kinda laggy. I upgraded to ICS and it's snappier in general but it still seems laggy to me in some things like selecting options, for example I enable bluetooth... wait a sec... then I get the notification. I select a recent app... wait a sec... app opens and stuff like that.

COMPARED TO OG TF: I restored my backup from the original Transformer which was almost 200 apps so I guess this could make the tablet laggy but the thing is the old transformer worked just fine. Don't get me wrong, the Transformer Prime is a good experience, it's a good tablet, I just don't feel the difference compared to the original Transformer. If before I had 2 cores and now I have 4+1, why does it feel a little slower? You know what I mean? If it was super easy to sell the old one and buy the new one it would be different but to get a Champagne Prime at retail price is hard and I'm not sure it was worth it, now I don't have the keyboard dock which is annoying but I was finally able to order it from Tigerdirect so I'm waiting for it to arrive.

WIFI? GPS? Who cares about GPS in a wifi Tablet? Seriously? Wifi to me has been choppy. Works fine next to the router obviously but not so much in my room but the OG transformer didn't work so well in the room either, we have thick brick walls here so that sucks.

SHOULD YOU WAIT FOR THE IPAD3? NOOOOOOOOOOOOOOOOOOOOOOOOOOO what is wrong with you people? If the Prime was a disappointment to you for some reason that doesn't mean you have to go to crapple!! The OG Transformer is available, other tablets are available, more tablets will come besides people are more likely to write a review if they want to complain about something so count each good review as double or triple.

CRASHES: My apps very rarely crash and the Prime never crashed until today while I was trying to watch a Youtube video and I use all day all the time.

IS IT REALLY SLOWER THAN THE OG TF? This is a Tegra 3 so if you used a T3 optimized app like the jetski game that splashes the screen n stuff I'm sure it will run great and it won't run on the original TF (Or it won't run the same). But for general use like scrolling around, looking at widgets and opening my usual apps like Netfix, Pulse, Cnet TV, Doggcatcher, Youtube, etc it doesn't feel faster to me.

WHY DON'T YOU RETURN IT? It's not easy for me to return stuff since I'm not in the US. I still wouldn't return it because I don't want to go back and then I stumble upon a Tegra 3 only app that I can't get cause I went back. Also the prime is lighter and thinner and prettier, I finally ordered the dock so... I might as well keep it. Besides when the TF700 comes out it and if it works well I could probably sell the Prime and get that one.

FINAL WORDS: The prime has issues but it's a good machine. You might be satisfied with the OG Prime which is a hundred bucks cheaper and the dock is now also cheaper, maybe you can find one in a store to play around with. Besides ASUS has announced that ICS is coming soon to the OG TF. I've had many Android devices and this is stuff you live with if you want to be free. I'd rather have one crash a month and wifi a little slow then to live in a little cube where crapple dictates your life, that's just pathetic.