Uscma.org Review:
U S C M A - United States Colombian Medical Association | United States Colombian Medical Association
- United States Colombian Medical Association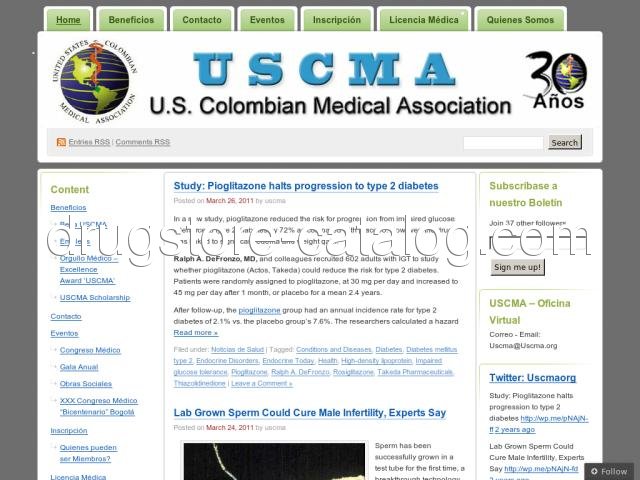 Country: North America, US, United States
City: 94110 San Francisco, California
Justin Korb - Worked for meI have been using this product since 2004 and love it. I had acne problems in college and tried this when it was fairly new. I have had clear skin since. The only drawback is that the acne treatment serum bleaches colored fabrics. Once I found this out I started taking the serum off my hands with a white towel and the problem was solved.
Justin D. Turner - Really pleasedI have been considering purchasing a tablet since the original transformer was announced last Spring. I am glad I waited for the Prime, as I feel it is something powerful enough to grow with me in the years ahead.

Pros:
- The biggest advantage of the prime is the option to add the keyboard. It really adds a level of versatility that is currently not matched by anything on the market. Feel like just browsing around the web or checking email? Use it as a tablet. Need to write longer emails or documents? Attach the keyboard and you have a laptop that is considerably lighter than any laptop I've used.
- Battery life is really impressive. I've been blown away. It lasts for days. As in, I charge it Monday and it still has a charge on Friday. To get these results, I'm obviously not using it constantly, but for my nightly email and blog reading, it's great. The keyboard has it's own battery that charges the Prime when attached. Together, the Prime lasts about 16 hours which is 6 hours longer than any tablet available.
- The screen is very sharp, and the ability to turn the IPS mode on and off (and with just two taps) makes it that much more easy to use.
- The Tegra 3 processor really hums. I have played a few games and it has no problem keeping up. Also, I am able to browse with more tabs opened in my browser than I can on my netbook.
- Android ICS Operating System is a great user experience. I love all of the flexibility Android allows, and firmly believe it's the best mobile operating system right now. As a gmail user, I absolutely love the built in Gmail app which is better than either the web page or what's available on non-Android tablets.
- Great support from Asus. Early on, some units were having stability issues. Mine was one of them. Asus was on help forums reaching out to customers, letting them know they were working on a fix. I'm happy to say that after 2 weeks, my Prime received an OS update and I haven't had any problems since.

Cons:
- The only real con is the GPS issue. Many units don't have a functioning GPS. I don't even know if mine is one, because since it's WiFi only, I have really no use for GPS. But it's a real issue, acknowledged by Asus, and if GPS is important to you, I would wait until the new Transformer TF701 or 300 come out in the second quarter, if you want a keyboard, or get something else in the mean time.
- Supply chain problems also left me waiting a month after my order for mine to arrive. Not the end of the world, but it's hard to get excited about a product when if you brag to your friends about it, they can't even go get it because it's so hard to find.
- The speakers are kinda meh. There really should be two for stereo. But really, how often am I using the speakers on a tablet anyway? On planes, trains, etc, I use headphones, but it's worth mentioning if it's a feature that's important to you.

Overall, I think the Prime is a really impressive product. As a tablet, it allows me to check gmail, read blogs from my reader, and the Washington Post from Press Reader (pre-installed, and really nice) in a great, light, portable form factor. Add on the keyboard, and now it's a light weight laptop that allows me to review and edit photos on my SD card. Love it.
Ruth Smith - Great Flea Product!!We have been using nasty chemicals on our dogs and in our house this year that has been the worst flea infestation I have ever seen. None of these products were working and the fleas just kept getting worse and worse. We found this product after researching organic remedies for fleas. This was a GREAT find!! We are finally getting results and almost have our flea problem under control. The house smells great after treating with this product. Thank you Vets Best for a great product...I would recommend this to everyone battling those pesky fleas!! Bring on tick season we are armed now!
D. O'Donnell - Very nice-Great Value-Some fit recommendationsI am 6'3" and 175 pounds. I purchased this jacket in medium tall. I own another Eisenhower (and have owned several in my lifetime), it is the non lined version, in size medium. I found the medium tall lined version fit similarly in length, sitting just below my belt line. The arms of the MT version where noticeably longer, as I wanted. Now, when I stretch my arms out the sleeves do not raise up above my wrists, which I hated on my medium version. The sleeve opening on the MT lined version where much larger in diameter. When wearing a sweater underneath, this was not an issue, but when wearing only a t shirt I found the larger sleeve opening to look silly. I can simply move the button over to solve this issue. The jacket is warmer than expected and repels stains, light rain, and other moisture. Be warned, the jacket is waist length, so wearing anything longer than the jacket can throw off your style. I typically wear the jacket open to avoid this fashion blunder. It looks better worn open, in my opinion. If you are wearing this jacket for work then you may not care about how it looks. Wearing it closed will obviously keep you warmer and better protected from grease and other nasty items in that category. The zipper does get stuck easily as mentioned by others, it's a characteristic of this jacket as every Eisenhower I have ever owned had a weird zipper. The jacket will be stiff and first and may feel a bit tight in the shoulders, this loosens up with wear and becomes much more comfortable. Overall, this jacket is made well, fits well, and is prices very reasonably. I would even call it a bargain, especially since these jackets last forever.
Chrissy A. - Lifesaver!I bought this when my daughter was about two and a half months old. I was hesitant because I wasn't sure how much more use she'd get out if it. It had been an absolute lifesaver! It is amazing how much time she'll spend happily staring at herself and kicking. The mirror is genius and I like that it also converts to a tummy time mat too! Worth every penny!