Srispharma.co.in Review:
Pharmaceutical Medicines - Pharmaceutical Drugs and Pharmaceutical Ingredients and Formulation Manufacturer and Exporter | Sris Pharmaceuticals, Hyderabad
- Manufacturer and Exporter of Pharmaceutical Medicines, Pharmaceutical Drugs and Pharmaceutical Ingredients and Formulation offered by Sris Pharmaceuticals, Hyderabad, Andhra Pradesh, India.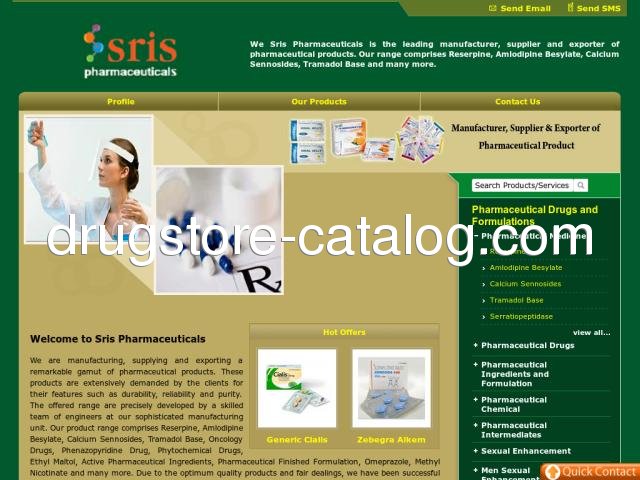 Country: North America, US, United States
City: 10006 New York, New York
Dianne - THE BEST FOR THE PRICEI always read the rotten reviews - even if the majority are good - I really needed a new vacuum and I didn't have a fortune to spend. I decided based on the reviews to purchase the Shark Navigator - I have had it about 3 months now and am still BLOWN AWAY by the amount of dirt it picks up - I have 2 dogs, a cat and a rabbit. I don't know what they are talking about when they say it blows the pet hair around - it picks all of mine up. I do have to empty the dirt container after each room but that is no big deal. I love this vacuum - don't hesitate to purchase it - you will be very pleased.
Cynthia H. - The Kindle FamiliesYes I love the kindle fire ( previous ) edition it's a damn great tablet for it to be 7" it can hold a lot. I just can't seem to put it down everytime I try I just pick it right back up again. It's when Amazon came out with these kindle tablets they came out a winner. The kindles keep growing and growing every year and every year they keep getting. better and better although the kindles are from generation to generation I still love my (Fire ) it always keeps me busy doing something i' m never bored. This beautiful tablet with its beautiful name kindle makes all the other tablets stand behind you I'm very proud. To stand behind your name. Amazon you've. done a terrific. job keep up the good work. Thumbs. Up To You I love it. Cynthia H.
Leigh Roberts - I love my Shark Navigator Upright Bagless Vacuum Cleaner!This is my second Shark Navigator. I bought it to use in the large house I now share with my elderly dad as his caretaker. I'm still using No. 1 in my own condo. The Shark Navigator is really powerful, yet very easy to maneuver. Cleaning it after every use is a breeze - just empty and rinse out the collection compartment and let dry -- no more messy and expensive vacuum bags -- fabulous! The extension tube gives me an additional reach of a few feet to get into ceiling corners or underneath chairs and couches. I have had several other brand name vacuums over the years, including a $800+ Rainbow, a/k/a the "Hummer" of vacuums, and the Shark isn't far behind in it's performance. For all it's hard work and ease of use, not to mention great price, I'm a Shark fan forever.

Leigh in Denver, CO
timnjojo - Not Perfect, But Close Enough!I have been using the Britax B-Agile since my daughter was six months old. Now that she is older (12 months) and more alert, I have come to realize that she prefers to be more upright than the B-Agile will go and would probably appreciate a belly bar. Also, I was having issues with the height/angle of the handlebar causing pain in my hands and wrists on longer walks. And, to be honest, it is not really that agile and kind of a pain to use in stores. So I started on the quest for a lightweight umbrella stroller that had similar features to the Britax that I had initially wanted. I have been researching for a couple of months and after reading many reviews and watching several videos, I decided that the Trip was just what I was looking for.

I received it today and it was so easy to put together. Without looking at the instructions, I had everything snapped on in less than five minutes (the wheels are already attached). It is only about a pound or so lighter than the B-Agile, but it felt noticeably lighter. Quality seems on par with the Britax. Best of all, I put my daughter in it and she immediately smiled and got excited - never has done that in the other stroller! We took it for a long walk and these are my observations:

- Holds enough weight and has a tall enough back that it will last a few years, maybe even until my daughter doesn't need a stroller anymore - that would be nice!
- Easy fold and unfold with auto lock on fold and a carrying handle. I also think we will appreciate the smaller footprint when stored in the back of our small SUV.
- Nimble and easy to maneuver. The ride is slightly less plush, but nothing we can't live with.
- Front wheels lock if you need them to.
- Handles are ergonomic and cushy on the hands. I am 5'4" and the handles are at a comfortable height.
- Large Canopy that has a peek-a-boo window and tilts down to adjust for the sun. I did feel she wasn't getting as much coverage, but she is also sitting more upright so I guess that is the trade off. This canopy provided the most coverage I could find in an umbrella stroller (in this price range).
- Upright seat position with option for a decent recline. My daughter is not a stroller napper, but it would be nice to recline to a decent angle if needed. I am happy with all of the seat positions on this and really prefer the way it adjusts as opposed to the strap/pulley kind on the Britax.
- Belly bar is flexible, can withstand chewing, and folds with the stroller.
- Fabric seems durable (like a suitcase) and easy to clean. Padding seems comfortable for baby.
- Buckles would be tough for a kid, but are easy enough for an adult.
- Pocket on the canopy for parent or extra stuff. Cargo basket is easily accessible.
- Rain cover - fabulous that this is included. I live in South FL and actually thought I was going to have to break it out on our first walk! I stored it in the pocket on the canopy, since I will need it fairly often.
- Re-threading the straps was not a big deal.

CONS:
- Brake lock pedals could be a little bigger. I have small feet and really had to position my foot just right to get the brake to disengage. I hope it gets easier with practice.
- Fabric may be durable, but seems scratchy and stiff and may be more likely to hold heat. As long as the kiddo doesn't mind, it shouldn't be a problem.
- Peek-a-boo window in the canopy should have been mesh for better air flow, although I guess Inglesina did that to keep it waterproof. Also, the flap should have velcro or a toggle to keep it open. Instead, it just kind of flops around. I'm sure I can add my own velcro to solve this problem.
- Cup holder only holds a soda can or small water bottle. Not a deal breaker though, as we use a Diono stroller caddy, and plan to use the provided cup holder for my daughter's sippy cups (which fit nicely).

All said and done, I am very satisfied with my purchase. To me, the cons are really minor, and no stroller is 100% perfect. I am a diehard amazon fan, but found a coupon elsewhere and took a chance. I decided on the Liquirizia (Black with Ivory trim) instead of the purple one, and I think it looks sharp. This will have to be our only stroller and I am happy with my choice.

UPDATE 01/13/13:
After nine months of almost daily use, I thought I should give an update. We took our TRIP on a trip and it fared well through two flights. We put it in a stroller bag http://www.amazon.com/Diono-Buggy-Stroller-Travel-Black/dp/B005PK1FBS/ref=sr_1_2?ie=UTF8&qid=1358053345&sr=8-2&keywords=diono+stroller+bag and gate checked it. Now that my daughter is 34" tall, I am noticing the footrest issue that has been mentioned before - but it has not yet presented a problem for us. I had a problem with some stitching on the canopy visor coming apart, and customer service quickly sent me a new one upon proof of purchase. The frame creaks a little, but again, we use the stroller walking about 2 miles almost every day. I still stand by my original pros and cons.