Meds247online.com Review:
FDA Approved Generic Medicines | Global Online Pharmacy | Buy Generic Soma Online | Carisoprodol 350mg | Soma 500mg | Generic Ultram | Tramadol
- Meds247Online is bigheaded to provide our precious patients with quality generic drugs and OTC products. All products catered at Meds247online are manufactured by reputed manufacturers, which are well-matched and reliable with FDA standards and guidelines.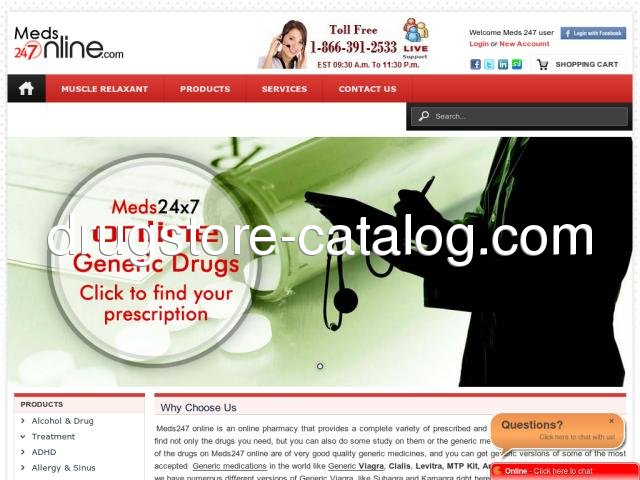 Country: Europe, NL, Netherlands
chels - AMAZING, just buy it.I've tanned 4-5 times a week for the last 2 years, so I'm already pretty dark. I've never believed in tanning lotions and never used one that did anything for me until I used this. After just one use, I looked 2 shades darker and it didn't fade like other products i've tried. I also have been getting a ton of compliments lately about my tan and people think I've gone on vacation, so the color this lotion gives is not orange. This lotion is EXTREMELY hot, I personally enjoy tingles and find the warmth of the lotion comforting but I do not recommend this product to someone who burns easily or would not enjoy a lotion this hot. There is a cooling effect, but the heat definitley there. Because this lotion is such a high intesity tingler, RUB IT IN EVENLY..I've read a few reviews where people said this lotion made them cough and gag, I too have the same problem with this lotion but I've found that if I apply a little less that goes away. I do enjoy the scent of this lotion as well. If you enjoy tanning and have a base tan already I HIGHLY recommend RUBY. You will not regret it!
K. M. Martin - Kept Me Up Way Past My BedtimeSHE CAN TELL was an amazing thrill-ride that kept me on the edge of my seat and frantically turning the pages until way past my bedtime. Rachel Parker is back in her tome town in Pennsylvania after her riding career ending in a fall that almost killed her. She is trying to fix up the farm she inherited from her grandfather and get her horse training business off the ground. Unfortunately, she faces opposition from her younger sister's abusive husband and an unknown stalker who wants her dead.

Police Chief Mike O'Connell has a full load too. He has on officer out on medical leave which leaves the force short-handed even without demands from some City Council members to provide special protection to the company developing some lakefront property which is being targeted by vandals and picketers. He's already feeling guilty that he didn't spot the murderer who almost killed a friend's fiance sooner. He is wearing himself out trying to do everything even before Rachel's problems start.

Rachel and Mike are attracted to each other as soon as they meet but are kept apart by his desire not to compromise his investigation by having a personal relationship with Rachel and her feeling that she would never be able to love someone which stems from her childhood.

I loved both Mike and Rachel. They were both immensely protective of those they loved. They were smart and grown-up. The conflicts in their relationship were very realistic. The romance in this story made sense.

The mystery part of the plot was well-done too. I was surprised to find out the identity of the stalker but, when I looked back, I could see that the author had left clues for me that I missed. There were lots of potential villains and lots of plot twists to keep me entertained and involved in the story.

Hints at the events in SHE CAN RUN, the first book in this series, made it necessary for me to add that title to my Kindle too. I can't wait to read that one too. Fans of romantic suspense who enjoy fast-paced stories with lots of twists and turns and who want a romance that features two strong characters will really enjoy this title.
Essie B - Before, During & After KatrinaI was very moved by this book. As a recently retired Registered Nurse, I went down there after the hurricane. I was deployed at the Houston Astrodome which sheltered the people who had sought refuge in the New Orleans Superdome. Before, during and after my stint there I followed the news reports closely in both the conventional and alternative press. Dave Eggers' story resonated with what I had experienced and what I learned. It is both heart-warming and heart-breaking to read about this disaster through the voice of a Muslim man and his family.
Robert D. Thonney "Bob" - A GOOD SHAKEUPWe need to be shaken up on our complacent luxurious way of life. It will be a shame to us if we continue in the same and then when we stand at the judgment seat of Christ are shown how empty it all was when there are so many dear people we could have helped. People who live with their own desires paramount, are generally quite unhappy. It is simply the wrong focus. We profess to follow the Lord Jesus Christ who became poor that we might be rich. Shall we simply enjoy our riches materially and leave our brothers and sisters in other parts of the world to struggle through their poverty. How will that look in that day of manifestation before the throne of God????
T. Pritchett - I use it ALL the time; best gift ever!Note: this was a gift with accessories (tamper, stainless steel "jug", grinder, cups rack and plates, etc) all from Amazon, and I haven't yet used the coffee pot. (I've already got one; this will be used when the other one blows; we drink a LOT of coffee so I anticipate needing the coffee pot part one day, lol).

I'm a major espresso drinker, so what a nice gift this was! I've had a few others, but either they didn't shoot the water hard enough to get a good pull, or the machines were too complicated and hard to clean ...and those machines sit in my cabinets. When I first opened this present, I was honestly thrilled because someone KNEW I loved espresso, but I admit, I also imagined, "oh my, a THIRD espresso maker to sit in my cabinets ...while I visit coffee shops in town," but after I tried it, I'll admit, I've used this Every. Single. Day. since I've gotten it. A month yesterday.

My "likes" about this one:

* GOOD PRESSURE due to sturdy construction of the water basin (for good jets of hot water, and good steam). The lid and machine feels heavy like a pressure cooker. (By the way: GET THE TAMPER! It makes all the difference) so you can get a good pull of even 4 shots at a time. This is the important part, really, because if you don't get the pressure, you'll won't get that microfoam milk, and then you won't get the magic (crema) to your espresso. No pressure, you get flat, "drip coffee" espresso with no crema, no matter how you tamp it. GOT to have the pressure. So that makes this machine at the least adequate: you WILL get a good pull of espresso.

Although you do the milk first, I set it up with the coffee tamped and locked in, add the water for both the milk AND the espresso, then froth the milk, clean the steam nozzle (using the steam and a sponge), then turn the knob to espresso immediately (takes a few seconds all told). Filling the portafilter with coffee grounds and tamping is easy, and easy to clean. Of course before you lock it in, you tamp your coffee: TAMPING IS HUGE! The harder the tamp, the creamier the espresso! Only problem I've seen is rather common: if you're only making only a few shots, the tamper can get stuck, so you pull it out funny and you lose your tamp (flat, hard pressure fill) and have to start over again. So my attitude is, since you just need a LITTLE more grains to make 4 shots, make the four shots! Tamper never gets stuck then, and you'll get good pulls (complete with crema, that brown froth stuff in your espresso from a good tamp)!

* FROTHING THE MILK. It may not be evident: you froth your milk first, then pull your espresso, which is why the carafe has a "steam" indicator line around the 1 shot mark. You're supposed to pour the steam water in machine, wait, turn dial towards you to froth your milk, froth your milk, then open the machine and pour in more water for your espresso, then pull your espresso. WELL, I CHEAT: I pour the whole shebang (amount of espresso water I want to pull PLUS amount of steam I want, which varies depending on my milk and the drink I want). That way, the minute my milk is frothed and my nozzle is cleaned, I turn the knob back to "espresso" and let the machine do it's magic.

YOU WILL GET NICE FROTH! I'm talking, MICROFOAM, not BUBBLES. I couldn't believe I got a machine that could produce microfoam! YAY! Mostly, it's in HOW you hold your stainless steel milk container: the little holes that shoot steam should be immersed JUST to the little holes; if you have enough pressure, and this machine does, you'll get a good microfoam easily within 30 seconds. (In fact, it can boil on you if you're not keeping an eye on it, so respect this machine: it'll quadruple your milk in seconds and you'll get bubbles.) There are youtubes on the methods to get various froths, but what's nice about this machine is the steam nodule rotates to your preferred position, and is long enough you can avoid burns, so you can really keep an eye on it and control your frothing. (AND NOT GET BURNED!)

The problem I've had with steam nozzles on other machines is that the steam nozzles seem like "afterthoughts": the steam nozzles weren't long enough, so you'd burn yourself trying to froth, grrr, or the machine didn't make hot enough steam to blow the surface of the milk, much less to froth it. But this machine shoots out PLENTY of hot steam. I can do breves (with heavier cream) on this machine. So Caps and lattes are EASY. (Mainly make sure you add more water if you're wanting to froth half-and-half or whole milk.)

* MILK CLEANUP: I use a little extra water so when my milk is frothed, I set it aside, have a damp sponge available (SPONGE or you'll burn yourself!!!) and use the scrubby side of the sponge to wrap it around the nozzle and twist the sponge around AS THE STEAM IS COMING OUT; then I let steam escape alone for a few seconds, then I hit it with the sponge again and then turn the knob to espresso and wipe the counter if needed. NO dried up milk on the nozzle, and I haven't had to use needles to clean the little steam holes at all. EASY clean up. I pull the espresso, pour it, add the frothed milk, rinse the milk container, turn the machine off, and that's IT. I'm drinking my latte and have left the kitchen. I use this thing like, several more times a day than I should, LOL, but when cleanup is easy, and you don't have burn marks on your hands from too-short nozzles, you WILL use the thing.

* GENERAL CLEAN UP! Dude, it's done! No seriously, I'm drinking a breve or latte and the counter's clean. Just turn the machine off and forget it. I use it enough that a few hours later, when it's cool to the touch, I tap the coffee grains out and am ready to go again. If I'm headed to bed, I'll tap the grains out at night, then rinse the portafilter, but that's it. You're DONE. DRINK! DEO GRATIAS! If this thing breaks, I'm buying another one.