Crdd.osdd.net Review:
Computational Resources for Drug Discovery
- Computational Resources for Drug Discovery is module of OSDD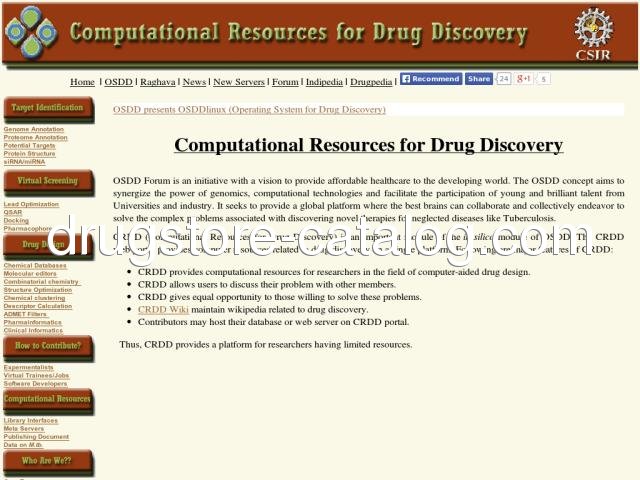 Country: Asia, IN, India
E. Ferguson "V's Mum" - Worked for us!It accurately predicted we were having a little girl. Whoever gets angry about the 'prediction' is taking it a bit too seriously. I wouldn't start painting the room pink or blue based on the results but it's still fun to do.

Also, their customer service was really helpful when I had questions about my outcome.

**UPDATE**
We found out we were pregnant in September and we were sure to purchase this when we were far along enough to try it. This time it predicted boy. I wanted to make sure the results were correct, color-wise, so I emailed their customer service. They were prompt in returning my email and confirmed I got a boy result. Well, 5 weeks later we got our confirmation that we are in fact having a boy!

I think one of the problems with this product is you have to follow the directions EXACTLY for it to work. But, it worked for us twice! :)
Dandieandie - Hormonal/cystic acne is gone!!!I've struggled with moderate acne since my teens. In my 20s I was on the Pill so acne was pretty manageable. After going off the Pill and then after having my baby I developed horrible cystic acne on my chin - three or four huge zits a month. I randomly came across Exposed on the Internet one night and bought it on a whim. I honestly wasn't expecting it to work but thought it couldn't hurt. The first night I used the products, I had two large "underground" zits on my chin. I swear that within minutes of applying the acne treatment and clear pore serums I could feel the zits shrinking. I thought it was just in my head, but when I woke up the next morning, the zits were definitely smaller and within a few days had shrunk completely and never broke the surface as they would have normally done. I was amazed. I haven't had a single cystic acne since. I've had a few small zits here and there, but I've been using the products for over three months, and the last time I ovulated (when I normally get breakouts) I didn't get even a single, tiny zit. Finally, at 33, my skin is the clearest it's ever been.
My skin is very oily, but I found the moisturizer to be too dry. I did start the products in the dead of winter, so I will try using the moisturizer when the weather starts heating up. I also don't use the cleanser in the morning. I like washing my face in the morning with jojoba and castor oil - it makes my skin soft and doesn't strip my skin. The Exposed cleanser is great in the evening and removes all traces of my makeup.
If you are hesitant to spend the money on the kit, I would definitely try the serums - I think those two products are what really made the difference on my skin. The cleanser and toner are great, but I don't always use them daily like I do the serums and my skin still does great.
And hardly anybody seems to mention diet and acne, but I do believe we have foods that trigger or inflame our acne. My skin was great when I was pregnant and I thought it was the change in hormones. But I also realized that I wasn't drinking alcohol or coffee on daily basis like I was after my baby was born. (Motherhood is hard - don't judge!) cutting down my alcohol consumption and switching to decaf, I believe, has been a huge contribution to the appearance of my skin. When I do have a cup of regular coffee every now and then, I will have a small break out two or three days later. Pay attention to your diet and you may discover foods that trigger your acne.
Joseph R. Mirabito "Perky" - A worthwhile read, well researched, well written.This is one book that is thoroughly researched, professionally written and a pleasure to read. There is a combination of review of research added to practical experiences that are easy to follow and realistic in expectations. Definitely worth reading. I purchased it to add some more depth to my own relationship with my wife and we have both been reading it with impresive results. It would be even more worthwhile if you are looking to meet someone.
D. Corbishley - Great tool, more flexible than a GPS aloneI like this because I can plan my entire trip, hit the spots I want to visit, avoid those I don't, with ease. With a GPS you give the address and can give minimal input on what kinds of roads you like, maybe you know a bad traffic area that the GPS does not, too bad. With this software you can plan your route exactly as you like it.
Angela L. Chirnside - Very informativeAlthough I have yet to hike the AT, this book as given my insight as to what to expect and where to start my journey. I only plan on a 4 day hike, but this allows me to select a starting and ending point and what to expect. As a novice hiker, I will carry this book with me everywhere when I do reach the AT.