Cancercarepharmacy.net Review:
Buy Anti Cancer Drugs Online, Generic Anticancer Drugs
- Cancer Care Pharmacy- engaged in business of Generic Anticancer Drugs Online & natural products since 1980. We serve anti cancer drugs directly to clients, hospitals, health care institutions and various online pharmacies.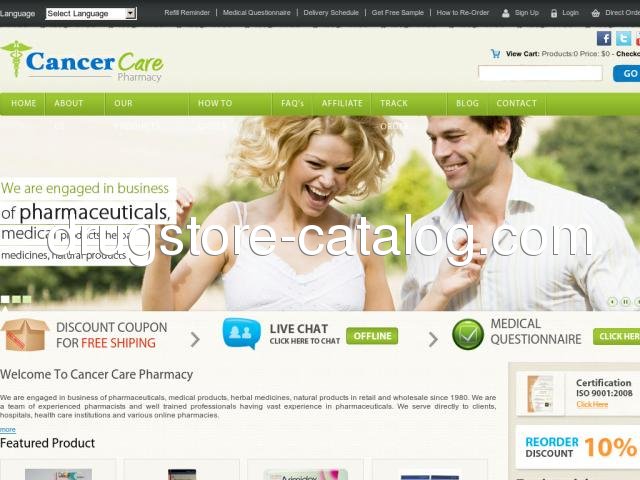 Country: North America, US, United States
City: 22101 McLean, Virginia
GodsAmiga - I love this stroller!!!I will say right from the start that I have only had this stroller for about a week. If anything changes I will come back and change my review. :-)

I LOVE this stroller! It is exactly what I was looking for. :-)

First off, it is a very smooth ride. I was using the Chicco snap 'n' go stroller before this and while I liked it it definitely had more trouble with bumps and things. This one is smooth enough to not have to be careful over bumps and my baby doesn't notice them. The wheels are plastic which I don't mind but I know some people prefer the air tires.

Secondly, it is VERY easy to steer! It turns on a dime. I can turn and maneuver it one-handed with my other hand full of groceries and I don't even have to force it to turn with my arm or anything. So easy to do! Now granted my baby is only 3 months old but my 3 year old wanted to ride in it when it first arrived so I pushed her around the apartment and it was just as easy to turn. This is huge for me. The snap 'n' go was able to be steered one-handed as well and I really wanted that with a bigger stroller to make getting through doors and aisles easier. :-)

Another great feature is the canopy. It's huge! Great protection and you can adjust it to be 3 different sizes.

The mesh window in the canopy is big enough that I can look through and see my baby easily without having to crane my head over or stop the stroller. The mesh window in the back of the stroller is awesome! Huge and so nice for the hot humid days here. But I love that you can have it covered as well. The pocket is also nice. I can get a lot in there and to me that makes up for the basket being so small. The fabric that covers the mesh window that has the pocket zips and velcros into place pretty easily and it stays in place and doesn't come off.

The handlebar is soft and it's a great height. It's tall enough for my 6 ft husband to be comfortable but short enough for myself (5' 2") to be comfortable as well.

Folding up the stroller is easy and quick and it folds to be compact enough to fit easily in the tiny trunk of my early 90s Honda Odyssey. I love how it folds in half!

It's compact but so roomy! My 5 year old sat in this after we got it assembled and she had plenty of room. :-)

Assembly was a breeze. Just snap on the wheels and snap on the canopy and you're good to go!

I haven't had any trouble with unbuckling my kids from the harness but not sure if that's just luck of the draw or something that might pop up later on...

Some cons:

Small basket. Really not much room. I just adjusted the handle of my diaper bag to fit over the handlebar so for me it has plenty of room. But I know a bigger diaper bag would have trouble fitting in it because my smaller diaper bag takes up the entire basket and can be hard to pull out.

It's kind of awkward to unfold since it folds up differently. But this may just be because I haven't done it enough to have figured out the best way of doing it.

The handle to pull on to fold the stroller up with is in the middle of the seat they sit on. My kids don't seem to find this uncomfortable but something to perhaps be aware of.

When the seat isn't reclined the fabric with the pocket in it sometimes gets scrunched up an you have to adjust it if you want to have access to the pocket.

The seat does not sit fully up. This isn't a problem for me and I know from reading other reviews that you can rig something up if need be but again it is something to be aware of.

There is a hard bar thing up the back of the seat. My kids have not noticed this and don't seem to feel it and I actually just noticed it yesterday when I felt the seat from the back-not from the front. My kids find the seat to be very comfortable but I don't know if other kids might be more sensitive about it or not.

All in all this is an awesome stroller! For us it is perfect and the cons for me aren't really cons at all. But I did want to include them since for some they may be important. :-) Oh! As others have stated it doesn't come with any accessories. My water thermos clips onto it easily so I don't need any of them except I'll be buying the part that can zip over the legs for the cold winters here. :-) Anyways, this is definitely worth the buy! I wish I had had this stroller with my two older kids!!

Update! 8/21/2013

My family and I just got back from traveling back to the U.S. to visit my family. We brought along this stroller and everyone loved it! :-) Flying there we were able to get onto a non-stop flight but on the way back we couldn't get on one so we had to go a round-about way. I used this stroller in the Sea-Tac airport, LAX, and at Narita (one of Tokyo's airports) along with pushing it through part of downtown Tokyo and storing it underneath two different buses. It was a dream having this!!!! At one point we had two luggage carts stacked with luggage and car seats and I was pushing one with one hand along with the stroller with my other hand which had my 5 month old in it but I didn't have any trouble with steering it. :-) In Tokyo we were hurrying trying to find the overnight bus and it was very crowded. I had my 5 month old in the stroller, my 3 year old and 5 year old holding onto either side of the stroller, a child-size carry-on roller suitcase on top of the sunshade, stuffed animals and bags of snacks, etc all stuffed into the basket below with extra clothes and toys and water bottles stuck in the zippered pocket...I was pushing this one-handed while dragging another wheeled piece of luggage behind me and I had no problem! At one point we crossed a street and as we neared the other side I saw that there was a bump of curb about 2 inches high. Since the stroller was pretty loaded down I was steeling myself, ready to have to pick up thrown luggage while trying to get the stroller up the curb and make sure my kids got out of the street safely all at once. I was pleasantly surprised when the stroller smoothly went over it with ease. :-) When going through customs they didn't think my stroller would fit through the narrow aisle that others went through but it made it no problem. There were several other tight spots that my past strollers would have had trouble with (one would have made my old strollers fall into a street off the curb) and this stroller had no problems with any of them. Folding it up to stow in the buses or take onto the shuttle buses was simple-quick and painless. I was able to open and close it one-handed while holding my squirmy baby. :-) We were even made to go up an escalator with it instead of being able to use the elevator (with no time to close it up and hold it and the baby so up we went with the stroller open and the baby buckled into it) and didn't have any problems. :-) Our entire trip back home took a little over 44 hours with 3 little ones and I can honestly say that this stroller truly did make it way less stressful!! :-)
effected - All except the packagingAfter suffering from a chronic issue I am thrilled to find a product that works so well. However I would love to get my hands on the person who designed the packaging. If I want to organize my pills in advance I have to cut down the size of the foil around each pill in order for it to fit the organizer. It is not recommended that you open the packages in advance. This brings up another issue. You can't push the capsules through the foil without breaking the capsule so you have to use scizzors twice, once to cut down the packaging and once each day to open the individual capsule pocket. The packaging is too big. Maybe that's why they cost so much.