Amwa-doc.org Review:
AMWA | American Medical Womens Association: The Vision and Voice of Women in Medicine Since 1915
- The American Medical Women's Association empowers women to lead in improving health for all within a model that reflects the unique perspective of women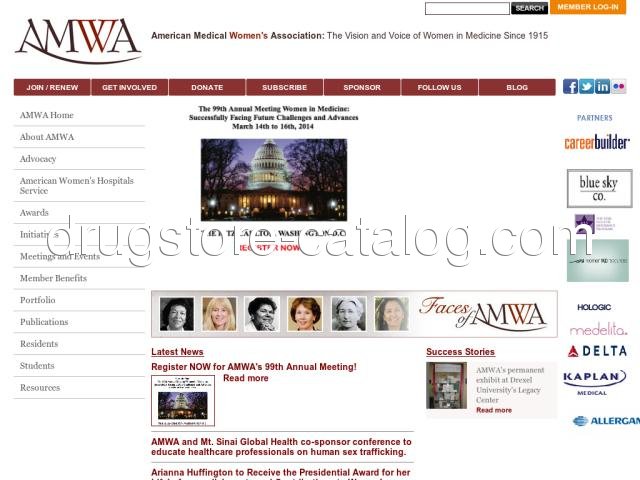 Country: North America, US, United States
City: 98144 Seattle, Washington
Rocco - Best Concert DVD of the YearColdplay is simply at their very best. Saw this concert in 2012 and their performance was nothing short of...spectacular! In the past I have always liked some songs but seeing them live converted me into a lifelong fan....a must for your collection...only negative is the lack of grace-notes on the CD.
yaelaviva - I have found the true religionBefore Hubs came into my life, I was a worshiper of idols and false gods. Then a foolish friend gave me Hubs - as a gag gift, since he didn't understand the power of Hubs. But I did.
Hubs, known to most as the Hutzler Banana Slicer (hence the name), is the true god, and I worship It. It told me to sacrifice my family when they told me I was spending too much time at the shrine of Hubs (the fools kept calling it the kitchen). It told me to sacrifice my doctor when he called my religion "schizophrenia". It told me to sacrifice my boyfriend when he criticized me for pleasuring myself with Hubs and a harem of bananas. Yet I have lost nothing, because they were not true believers in the wonders of Hubsism.
Hubs has replaced sex, work, love, socialization, and all food except bananas, who in the eyes of Hubs are made for the sole purpose of sacrifices to It. I am the happiest and holiest of all Hubsists.
Jasmyne - A fresh insight...I've been a huge fan for a while, always enjoyed his blog and videos... Particularly made me giggle when Matt did a video about one of my disaster dates I'd had! I've had a few more since then and I'm sure there are more to come. However, I'm loving this book and will be sharing all his little tips with my friends.
Mayflower Girl "amazon-junkie since 1996" - I've Made Banana "Ice Cream" for Years, but Yonanas Makes It the BestI've been eating banana "ice cream" for over 20 years now. Usually I make it in either a normal food processor or in a Vitamix. So every time I saw the Yonanas, I would think...nah, I don't need this. Everybody kept telling me that it gave it a different texture, so I finally decided to try it from one of the online shopping sites--as I could return it if needed. I am so glad I did! The Yonanas really does give it a better texture--more ice cream like. It's hard to describe, but much smoother and more emulsified (even though there's nothing in bananas to be emulsified.) My kids and I have been enjoying it a lot--both plain and with other frozen fruits mixed in. I really really enjoy it. Clean up is pretty easy too (you disassemble the machine by turning the main black bit counter-clockwise (OK, might be clockwise--but it's marked on the machine. :))

Our favorite mix-ins are coconut, mini chocolate chips, and sprinkles. (My kids are young.) Another great treat is to freeze pineapple spears or chunks and use that along with the bananas. Add in some coconut and it's like a pina colada.

To see if you even like banana ice cream, peel two spotted bananas (like for banana bread) and put them in a ziploc baggie in the freezer. The next day, take them out and either put them in your Cuisinart or blender. You might need to add 1-2 Tablespoons of milk (although the Yonanas does not need this). Blend until a paste. It also makes a great food for teething babies. No sugar, just bananas--but nice and cold.